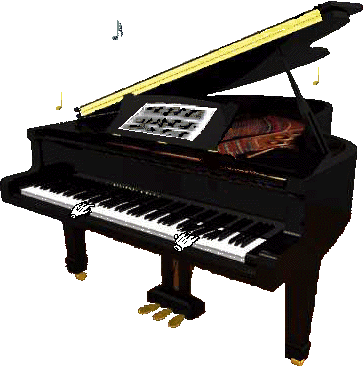 Wendy was born and brought up in Maesteg and at 37 years of age has established herself with many different choirs since the age of 15. At the age of eight years, Wendy started studying music. As well as playing the piano she is an established violin and cornet player-reaching grade 6 on both instruments. Wendy has passed her Grade 8 Piano Exam and enjoys plaing the Piano on a daily basis.
Wendy attended Maesteg Conprehensive School studying Music, French and Welsh for her "A" Levels in 2002. Wendy gained an A* grade at Music GCSE level also passed her "A" levels gaining yet another A grade in Music.
Wendy started off as accompanist of Maesteg Comprehensive School Choir for three years, and in August 2000 became the accompanist of Côr Merched Cwm Llynfi, where she stayed until January 2006. With this choir Wendy went on a trip to France, took part in a festival in Germany and also had the pleasure of playing in a concert in the Houses of Parliament. She has also accompanied Maesteg Children"s Choir here and has played for them whilst on a trip in Germany. In June 2002 she also accompanied Côr Meibion Maesteg A"r Cylch to Torrevieja, Spain. Wendy has since travelled to Holland and Belgium with Cymric Port Talbot Male Voice Choir at the end of October 2007 and also enjoyed a trip to Spain with them in July 2010. Wendy has had a busy year in 2011 and has enjoyed 2 trips. Poland with Cymric Port Talbot Male Voice for their Centenary and yet again Germany with Cor Yr Hen Blwyf.
Over the years, Wendy has played the Piano for a number of choirs and has been kept very busy. The choirs include Harmony and Côr Yr Hen Blwyf in Maesteg, Maesteg Children's Choir, Cor Miebion Maesteg, Bois Afan Male Voice Choir in Cwmavon and assistant accompanist for Côr Cymric Port Talbot Male Voice. From June 2011, Wendy has now become Musical Director of Bois Afan as well as Accompanist which has been an exciting achievement. She joined Bois Afan as accompanist in March 2007.
Wendy also formed a new ladies vocal group in Maesteg during February 2006 'Harmony' where she is the Musical Director and Accompanist. They have had numerous concerts since their formation and have taken a trip to Cornwall to sing which was a highlight for the choir in 2006. The choir enjoyed taking part in a choral festival in Northern Ireland in 2010 which was a very enjoyable experience. She thoroughly enjoys playing for each of these choirs and hopes to continue this for many years to come.
In May 2015, Wendy has become the Muscial Director and Accompanist of 'One Achord' who are a Ladies Choir from Cwmavon, Port Talbot. They were originally a choir as part of the WI in Port Talbot but due to a lot of interest, they broke away from the WI and are now a stand alone choir which has made the choir grow in numbers due to anyone now being able to join
Since she started playing for all these choirs, Wendy has proved her worth many times over, and has earned the admiration of her chorus members with her continuing ability to add a special dimension to each choir.